Home
»
Our Products
» Wire Electro Plating Plant (TIN/COPPER/NICKEL/SILVER)
Wire Electro Plating Plant (TIN/COPPER/NICKEL/SILVER)
With the assistance of our efficient and highly skilled workforce, we are developing and supplying an acclaimed collection of Tin, Copper & Nickel Electro Plating Plant on Wires.
Electroplating is primarily used for depositing a layer of material to bestow a desired property (e.g., scratch free and wear resistance, corrosion protection, etc.) to a surface that otherwise lacks that property.
After Tin plating on Copper wire, It change their property like colour formation, Gray white, increase shininess & brightness in fused condition, excellent corrosion resistance , increase in current conductivity.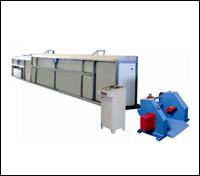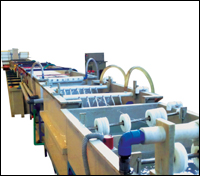 High performance
Durable
Reasonable running cost
Improve Conductivity
These products are known for their uses in numerous industries and factories. We utilize ultra-modern techniques and quality assured raw inputs for designing and developing design these products. In accordance with the industry set guidelines, these are highly demanded.
Our Machines are in two Type i.e Single Wire & Multi Wire Electro Plating