Home
»
Our Products
» 0ffLine Resistance Annealing Machine
0ffLine Resistance Annealing Machine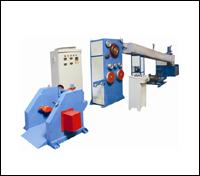 As its name suggests, it is a resistance Annealer for RBD wire sizes (0.80mm to 4.00mm) as well as Intermediate size. In this off line annealing machine, only single wire is annealed while rewinding from payoff to take up through annealing unit.

Our machine is built with extreme technical and quality control processes to ensure high performance from them. This off line Resistance Annealing machine also involves a separately annealing process.

It is continuous system, we have not to wait for Temperature, only just wire threading & start Annealing and rewind immediately on spool.